Welcome to Capistrano Avenue Elementary School!
Our school is a wonderful place to be for many reasons. We are a small school with an enrollment of approximately 400 students which makes it a fairly unique experience for our students in that staff members become familiar with students very quickly. I feel privileged to be a part of such a remarkable learning community. In my service as principal, I take much pride in the fact that our staff works diligently t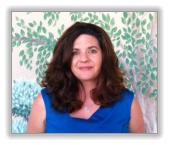 o maintain high educational standards for every child.
Our curriculum is rigorous and challenging and will continue to be so with the alignment to the California Common Core State Standards. Through these standards, we are charged with the responsibility of ensuring that all students are college or career ready by the time he/she completes high school. Of course we understand that this process begins in elementary school! Our goal is to teach students to read and think critically, solve problems, communicate effectively both in an oral and written format, and to utilize technology in relevant ways. We make the commitment to equip our students with the tools they need to be thoughtful, responsible citizens who will be ready to take their place in our world! Our students experience their instruction in classroom environments that promote academic risk-taking and nurture a love of learning.
In order to be successful, students need support from both school and home. The Capistrano Staff is committed to working collaboratively with our parents to provide results oriented instruction that focuses on the growth and achievement of each student. We count on our parents to partner with us as we continue our mission to provide a world class education for each child. We encourage our parents to take an active role in the academic growth of their children by reading to their children, conducting rich and robust conversations in the car and at the dinner table etc. We also expect that our parents will encourage children to persevere in the face of challenges and never give up!
We want our amazing school to be a place where the voices of the parents and community are heard. If you have ideas, thoughts, or concerns you'd like to share, we'd love to hear them. You are always welcome to visit our school. Thank you for sharing your children with us!
Sonja Cao-Garcia, Principal